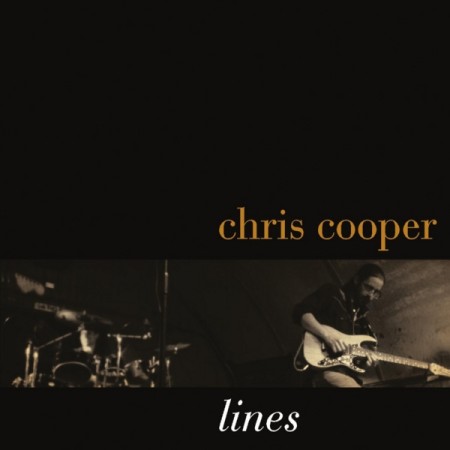 It seems strange to think of Chris Cooper's Lines as a "debut album," considering the artist behind it has long been a fixture in Sylva's music community. But Lines, recorded in 2011 at Western Carolina University and only recently released, is the first collection of Cooper's original jazz-fusion compositions to be made available for purchase.
Lines displays exactly what music listeners in Jackson County have come to expect from Cooper: sharp, technical guitar work; fluency across a wide array of styles; and a sense of subtlety too rarely displayed among adherents of the Joe Satriani School of Witchcraft and Guitar Wizardry.
Cooper is joined on the recording by a tight trio of respected players – Dan Gonko on drums, Justin Powell on keys, and Owen Tharp on bass – but Lines is unabashedly a guitar album, from the understated opening lines of "An Inquiry" to the final harmonic of the acoustic postlude "Autumn."
In between, Cooper's guitar stays largely front-and-center, though with refreshingly little of the pretentiousness that can sometimes alienate instrumental virtuosos from the casual listener. The self-consciously titled "Theme From An Imaginary Cop Show," for instance, is precisely the trifle it claims to be – a fun, funky romp that immediately brings to mind a pair of mustachioed detectives chasing perps in an unmarked mid-70s sedan. It's easy to picture the credits rolling over a montage of action scenes and Aviator shades.
This is not to say that Cooper is afraid to challenge the listener or show off his chops when the situation calls for it. "Fireflies" finds room for a few lightning-fast sweeps before quickly firing into a frantic, percussive bridge in a time signature I'm unable to identify, while "Sideways" is an unapologetic funk/blues rocket that plays somewhat like a mean three-minute guitar solo.
Yet it is Cooper's characteristic restraint that gives "Maple Street" – the album's longest and perhaps strongest track – the dynamic range to clock in at nearly seven minutes without ever seeming to drag. The song opens with a calm, lyrical melody before easing into an initially unassuming chorus that grows in shimmering complexity with each new iteration, bookending a contemplative, almost-melancholy three-minute bridge in which Cooper finally releases the extended solo that the whole album seems to have been building toward.
Yet by the song's end Cooper and the band have dialed back the intensity to transition into the chill of "Autumn." Lines is most satisfying at these moments of transition, when Cooper answers the challenge of making music that can be compelling to the listener without a lyrical focus by emphasizing song structure and dynamics, and simply by choosing the best times not to shred.
Chris Cooper plays Saturday night at Signature Brew Coffee in Sylva with an entirely different all-star cast than the one described in this review. You can preview or purchase Lines at CDBaby, or pick up a copy any time at Signature Brew.