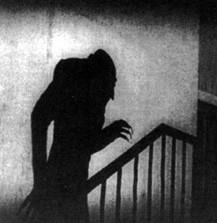 Far-western NC is about to have a very musical Halloween weekend. To wit:
1) Prog-punks Solito will play a Rocky Horror Picture Show-themed set on Friday at Tuckasegee Tavern in Bryson City.
2) If you prefer to be simultaneously edified and terrified, an ensemble featuring members of the legendary Moolah Temple String Band and The Imperative will be providing a creepy soundtrack for the 1922 silent classic Nosferatu (pictured), showing at 8pm Saturday at the Jackson County Public Library.
3)Â Elbow Deep will provide a punk-rock horror show Saturday at 10pm at Guadalupe Cafe in Sylva.
4) And of course PMA will be mellowing out the 3rd Annual Cullowheen at Avant Garden on Saturday night.