It's three days before the first show, and Luke Webb is rummaging through a basket of percussion instruments. He hands one to each member of The Imperative—a Tibetan gong for bassist Adam Bigelow, a two-sided brass cocktail jigger for keyboardist Rachel Waterhouse—while Webb himself fingers a brightly decorated recorder.
And then the processional begins. As Bigelow and Waterhouse lock into a chiming, metallic beat and Webb rasps a hoarse drone on his recorder, the musicians pace slowly into the living room before taking up their primary instruments to begin their set.
Such an entrance might seem ostentatious for a local band preparing for its very first live performance, but there's something appropriate about the ceremony in the case of a group whose debut has been so eagerly anticipated. Webb's previous project, Shiner Miners, was until its dissolution last year one of Jackson County's most respected acts, in large part because of Webb's outsized personality as both a songwriter and performer. Now, with Waterhouse and Bigelow, Webb is back behind the microphone with all new material from an extraordinary album released earlier this year.
(The album can be downloaded for free in its entirety or streamed in part at lukey.quietzine.com. It would make an ideal accompaniment to this story.)
—–
I met Webb for the first time in 2005 at the Shiner Miners' debut show, before a small audience in a second-floor photography studio overlooking downtown Sylva. In the week prior, anyone with an eye out for such things—which can describe a relatively small group of people in a place like Sylva—might have noticed the 4"x6" glossy photo prints featuring Webb's surrealist artwork that had been posted on bulletin boards around town in lieu of traditional fliers.
Webb had recently returned to Sylva, his hometown, after a stint at Berea College in Kentucky. On stage, he cut a bizarre figure, tall and almost grotesquely gaunt, stomping and twitching around his mic stand with a big, red hollow-body guitar. Even through the makeshift PA system, Shiner Miners lyrics came across as simultaneously expressive and intellectual, profane and spiritual, complex and frank.
Shiner Miners persisted through a series of incarnations over the next five years, with a revolving cast of some of Sylva's most creative musicians. Of the original lineup, only drummer Isaac Sturgill remained when the band reached its peak as a stripped-down, energetic three-piece with bassist Jason Beck. A final manifestation played several shows around western North Carolina last year before Webb decided the band had run its course.
—–
After Shiner Miners disbanded, Webb retreated to his modest home studio—consisting of a laptop and a single condenser microphone—and privately began working on the songs that would eventually become The Imperative. "In the Shiner Miners, I would write all my songs with my acoustic guitar and, like, scraps of paper," Webb explains. "And then I got a computer. A digital audio workstation lets you have as many tracks as you want, and so you can do anything."
Webb built many of the textures on the album by layering sounds from his collection of unusual instruments—everything from Celtic bodhrán and dulcimer to kazoo and omnichord. "Some of these songs would just start with a beat or a rhythm that I had, and I would work from there," Webb explains. "The lyrics actually became the last part of the process instead of the first."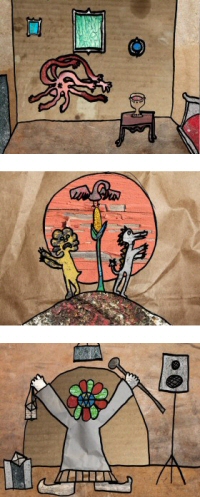 Lyrics played a part in giving the album its name, The Imperative, as a reference to the frequent use of verbs in the grammatical imperative mood. "Also, there's the double meaning for me: imperative means obligatory, like something that you have to do, or crucial, or essential," Webb explains. "To me, playing music is imperative."
"It's a compulsion," Webb laughs. "I have to do it, like something's wrong with me almost."
The result of Webb's compulsion is a determinedly diverse album. The Imperative opens with "Lotus Growl," an instrumental overture whose gongs and recorders shrilly announce the peculiarities to come, before transitioning unapologetically to the liquid-smooth bass and simmering bongos of "Left Ear Lullabye." Webb's folk-punk roots shine through on "Chalice" and again on "Ye Gods!," which somehow seems to wink toward the Violent Femmes even as it offers a burnt offering toward Mount Olympus. "Orpheus and Eurydice" continues the classical theme with an intimate retelling of the tragic myth over a tense bass line plucked on a dilapidated cello that Webb found abandoned in a downtown basement.
The volume picks up over the final four tracks of the album, as programmed percussion brings the rhythms into sharper focus. The slinky reggae of "VULTURES" and "CONTROL" serves as a perfect foundation for Webb's dense, off-kilter rhymes. "Nineteen Ninety Four" is perhaps the album's best and most unique song, pairing an electric, latin beat with a recorder hook underneath Webb's rapid-fire reminiscences of growing up abnormal in Jackson County with a possibly-unhealthy thirst for experience.
The Imperative covers this broad terrain in under half an hour, yet somehow comes across as a cohesive whole. It is a complete work, almost unnervingly so for a recording that was never necessarily meant to be shared, a project that Webb began for no other reason than "just to have something to do."
—–
Positive responses to the recording inspired Webb to develop the project for a live audience, but the album's instrumentation demanded an unconventional approach. "I didn't want to have a rock band," Webb explains. "I didn't want to have loud drums and loud guitars. I've done that a lot."
Webb looked to Bigelow, whose stand-up bass features in prominent local acts like Dan River Drifters and Ian Moore's Mountain Music Miscellany, and Waterhouse, whose voice is the signal feature of the experimental funk-fusion band Vajra Mudra, to bring the songs to life. The trio later added percussionist Adam Woleslagle, who played drums in the final lineup of Shiner Miners.
Bigelow, who had downloaded The Imperative as soon as it was available, jumped at the opportunity to join in. "I feel like this is the band we've been waiting for," he jokes, explaining that a collaboration with Webb had long been discussed.
Bigelow is involved with four musical projects at the moment, most of which adhere to more traditional forms like bluegrass or old-time. "This [project] brings me back to the kid in me," he explains. "And the days of listening to hip-hop and reggae and wishing I was a musician. And it's fun music to play."
Much of Waterhouse's early involvement with music, on the other hand, came through her church, where her father was a pastor. She was a worship leader and sang in "every choir I could join," picking up various instruments whenever she had the opportunity. It's only within the last year, however, that she's begun playing with Vajra Mudra, her first band outside of school or church, so she's excited about the learning experience The Imperative offers.
Part of that experience has been in determining how best to use her voice in conjunction with Webb's songs, which were originally written without such a powerful tool in mind. "Since it's not really a straightforward set style with this one, it's been kind of like hit and miss," Waterhouse explains. "It's been a creative thing trying to place my voice where it needs to be to make it sound like the instrument that it needs to sound like."
—–
Webb won't talk much about what The Imperative's songs are about, explaining his view that the listener has as much to do with the meaning of a song as does the composer. "I like hearing different people's interpretations," Webb says. "I learn a lot more about what the songs mean when I hear what other people think about them."
Bigelow and Waterhouse, for their part, agree that one current running through all of Webb's songs is the idea of love. "Different kinds of love, too," Waterhouse insists. "They maybe connect to material love, love of possessions, in a more critical way. But they also talk about a kind of respect for humankind that you could call love."
"It's all over the place," Webb says of the band's lyrical content in general. "Some of it is more autobiographical, and some of it is more philosophical, and some of it is just how I feel about different things, and some of it might have an element of social criticism in it."
"And some of it is just interesting words getting smushed together."
—–
In person, The Imperative is even more mischievous and unexpected than the album; the backup vocals for one song involve Waterhouse and Bigelow feigning a coughing spell, and they close their rehearsal not with a crescendo but with an a cappella chorus in three-part harmony.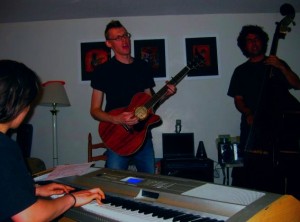 The live set has also replaced the non-verbal melody in the chorus of the anti-materialist screed "VULTURES" with a mantra in Sanskrit. The band members playfully offer various translations—from "diamond thunderbolt of wisdom in the void" to "Darth Vader repellant"—but all agree that it's meant to serve as a counterpoint to the profligacy depicted in the song, and possibly to uplift in the process.
"If you make merit by just saying this, why not have it as the chorus… I mean, how could you lose with that?" Webb says, after explaining the mantra's function in some Buddhist beliefs. "If it's the part of the song you repeat over and over again, it might as well have some kind of karmic benefit."
Over a post-practice snack, Bigelow suggests the band's name be written to always include an exclamation point. The band is excited not just about Saturday's show—with fellow local Jay Gorgeous at Guadalupe Café in Sylva, where both Waterhouse and Webb work and where Bigelow is a regular both as a performer and customer—but also, with several additional shows already planned, about possibilities for the future. "I like all the songs a lot," Bigelow says. "I wake up every morning singing a different one."
The Imperative debuts Saturday, April 9th at Guadalupe Cafe in Sylva at 10pm.
View the Facebook event here.
Download The Imperative at lukey.quietzine.com.