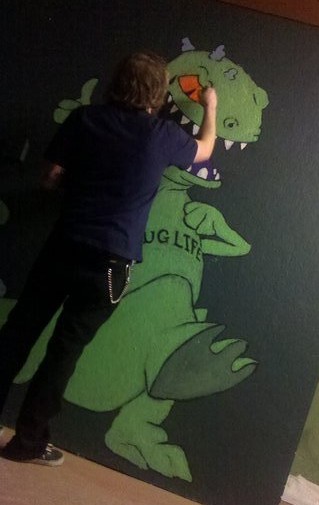 Sylva's downtown nightlife, such as it is, runs along Main Street, while nearby Mill Street – often referred to, tellingly, as "Back Street," and currently home to a cobbler, a frame shop, a laundry and a fishmonger – has tended to go dark after business hours. Passersby this spring might be more than a little surprised, then, to suddenly hear the thump of a bass drum or to spot a clutch of college students congregating in front of the matte-black storefront at 561 Mill Street.
Absolem's Hookah Spot will open on Friday, April 22nd with performances by DJ Sevenstone and Duh!RockBoyz. Right now it's early April, and I'm sitting on one of the Hookah Spot's fluorescent-splattered couches talking to the proprietor, Emily Walker, under a blacklight. The nascent venue is a flurry of activity. Two volunteers are remodeling the unisex bathroom in the corner, while another fiddles with a digital camera, taking pictures for the Absolem's website. Tattooist Robbie Crisp is on his way out the door, having just put the finishing touches on an eight-foot-tall mural of Clint Eastwood on the wall behind the new plywood stage.

—–
If aspects of the space are a work in progress, the business plan is not. "This is the only college town [in North Carolina] with a major university that doesn't have a hookah lounge," says Walker, who will graduate from WCU in May with a degree in psychology. Absolem's will offer twenty flavors of sheesha and a modest snack bar. Patrons who are of age will be able to bring their own alcohol for a corking fee, but Walker hopes to draw a significant portion of her business from younger college students who aren't always welcome at nightspots whose revenue is dependent on alcohol sales.
And while sheesha may be what's for sale at Absolem's, music is actually the most important aspect of Walker's strategy. She hopes Absolem's can offer something unique to the local music community, both from a stylistic and technical standpoint. "There's just not much really hard rock music," Walker explains. "One of my main goals for this shop is to walk in the door and see everybody moshing and having fun." The size of the Absolem's space places it comfortably in between some of Sylva's other venues, which will make it a more appropriate venue for some local and touring bands. "I feel like Bone Shack is too big for certain bands to play," Walker explains, whereas many other local venues may be too small or have inadequate sound systems.
"I want music to become more of a bigger deal in people's lives," Walker explains. "I wanted something that was a warehouse style, so that we could have live music and really enjoy it and not have too many limits on it."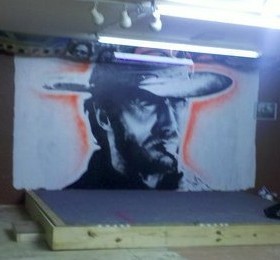 Walker's own tastes are diverse, ranging from softer indie to metal, but she has arranged to have Absolem's booking handled by an experienced agent based in Pennsylvania whose connections tend toward hardcore. Though she does hope to fill what she perceives as a local void in that genre, Walker expects to host a wide variety of artists. The lineup for the opening weekend, for instance, includes a pair of DJs, a local outfit called The Raw Taters, and the Triad-based hip-hop crew Duh!RockBoyZ. "A lot of people are sending me music," Walker says. "Funk bands and things like that."
Though much of her vision is based on attracting successful touring acts to Sylva, Walker expects Absolem's to become a comfortable home for local musicians as well. "I'm giving everybody a chance!" Walker insists. "I want [local bands] opening for some of the bands coming through and then building up. " Several of her friends' bands are currently using the venue as a practice space, and though they're not paying rent, Walker is pleased with the fringe benefits of having musicians hanging around the shop at all times. "I love music!" Walker exclaims. "I want to hear as much as possible."
—–
A volunteer named Tyler interrupts our conversation about the venue's new PA system by hauling a mangled piece of ductwork out of the bathroom. "There's your problem right there," he jokes in a faux mechanic's drawl. Walker still plans to install an entirely new ventilation system – a necessity for an establishment that trades in burning coals – before the venue opens.
Walker has been doing much of the construction herself, but has left most of the decoration to local artists. Crisp's piece is prominent, next to another large mural by Cullowhee tattooist Eddie Redskull, and the other walls of the space are covered with work in a variety of styles. One particular corner, and many of the space's other flat surfaces, will be fair game for patrons to decorate themselves using the fluorescent pens Absolem's will provide. "I want people to feel a personal attachment to this place," Walker explains.
"I'm hoping to appeal to everyone," Walker insists, while acknowledging that she has focused somewhat on a college crowd, even in her selection of sheesha flavors – "strawberry daiquiri" and "gumball," for instance. It's hard to argue with the idea that WCU students under the age of twenty-one make up an underserved market for entertainment in Jackson County. Walker feels strongly that Absolem's can thrive economically by welcoming these students while simultaneously broadening the creative life of the community through music and art.
—–
Asked about vaguely similar venues in Sylva's recent past – such as the short-lived show space at 609 Mill Street and the ill-fated all-ages venue KarrTunz in Jackson Plaza – Walker, who first came to WCU in 2009, makes it clear that she's committed to forging her own path. "I haven't heard anything about [KarrTunz] other than it was a venue," Walker shrugs.
The support Absolem's has received so far from students, community members, and future customers – every one of the hookahs had already been reserved for the opening night several weeks in advance – has Walker feeling confident that her venture can succeed. "This is all my energy right now, so hopefully it will be all my energy for a while… I mean, I painted the walls," Walker laughs. "I want to keep it around."
—–
Absolem's Hookah Spot opens Friday, April 22nd with performances from DJ Sevenstone and Duh!RockBoyZ.
For more information, visit the Absolem's Facebook page or web site.