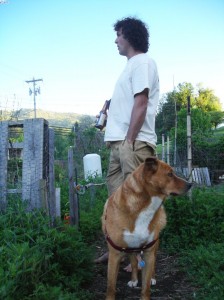 "This song was written before the USDA got their hands on organic standards!" announces the voice booming over the loudspeaker. It's a Friday night in late April and the attention of the crowd gathered around the outdoor stage at Sylva's Soul Infusion Bistro is centered on bass player Adam Bigelow.
"And we in no way endorse USDA organic standards!" Bigelow continues. "Buy local from someone you know! We support the Jackson County Farmer's Market—because we're for real!"
At six foot four, with a distinctive baritone voice and seemingly permanent smile, Adam Bigelow is one of Jackson County's most recognizable local musicians. He may also be one of the busiest. He performs every Tuesday night at Guadalupe Café's "Old Timey Music Jam" and is also the bass player for local groups The Dan River Drifters, The Imperative, and Cooking with Quanta. In the last two weeks alone Bigelow has played eleven gigs, with several more still to go.
"It's been a whirlwind because I've got school too," Bigelow notes. "April was the busiest month. The busiest month I've ever been in. And you know, I'm really enjoying it."
"Musician" is only one of Adam Bigelow's many roles. He may be just as quickly recognized for his work in several Jackson County community and conservation groups. But apart from being a self-professed "plant nerd," a rock and roll evangelist, and an active community member, very soon Adam Bigelow will have a new title—40-year-old college graduate.
On Saturday, May 7th, Bigelow will receive his bachelor's in environmental sciences from Western Carolina University, an achievement that will be celebrated that night with a barrage of musical performances hosted at Sylva's Guadalupe Café and featuring every single one of Bigelow's current bands. The event, jokingly dubbed "Bigaroo," will commence at 6:30pm and run until the early hours of the morning.
"I'm starting to get giddy," Bigelow says, all smiles.
—-


Thursday evening finds a bare-footed Bigelow at downtown Sylva's Community Garden "learning a hard lesson about winter ground cover," as he struggles to rid his plot of some stubborn winter wheat. The Garden supplies organically grown produce to The Community Table, which serves meals to Jackson County residents in need. Every Thursday Bigelow coordinates a volunteer workday, but this particular Thursday also marks Bigelow's last day of classes at WCU.
"This is exactly where I want to be right now," he says. "In my happy spot."
A native of Hampton, Virginia, Bigelow moved to Sylva from Goldsboro, North Carolina at age 22 intending to study radio and television production at Southwestern Community College, though these plans quickly changed.
"I dropped out of school, but fell in love with the mountains," he says. "People come here, go to school, and leave. Or people grow up here, stay for a little while and leave. But then there are others that move here from elsewhere and say, 'This place is amazing. Why would you want to live anywhere else?' And they stay."
These days Bigelow is involved with many community efforts, mostly centered on environmental conservation. This is his fifth season at the Community Garden, where he serves as an advisory committee member, assists volunteers, and, he proudly points out, makes the compost. He also serves on the advisory committee for the Cullowhee Revitalization Effort, is an "engaged participant" in the Jackson County Smart Roads Alliance, works with the Highlands Native Plants Conference, and is a member of the steering committee for the Cullowhee Native Plants Conference, which he calls his "proudest honor to date."
"Unfortunately, I have to credit Wal-Mart with sparking my interest in plants," Bigelow says. He worked in the garden center at the Franklin Wal-Mart for a few years before working for a local landscaping company and taking certification courses in horticulture. Seeking to "just learn more," Bigelow returned to school and earned an Associate of Applied Sciences degree from Haywood Community College, an experience that he credits with turning him from "a person who liked plants into a horticulturist."
"I never thought I was going to get a real degree." Bigelow says. Then, with a characteristic grin, he adds, "It's an A.A.S. degree, but I wish it was an A.S.S. degree to match my B.S. degree. "
—
As far-fetched as attaining a degree may have seemed to Bigelow at one time, being a performing musician must have seemed even more unlikely.
"For most people, when you get to your mid twenties, if you haven't already become an artist, the chances are you're not going to do it," he says. "It was really a response to trauma and life changes that put me into playing music."
Despite taking guitar lessons as a child, Bigelow had abandoned his musical ambitions, perhaps in part due to a disastrous elementary school talent show where a failed attempt at performing "Yankee Doodle Dandy" resulted in his fleeing the stage in an episode of stage fright that would seem entirely out of character today.
Bigelow didn't perform in front of an audience again until he was 27, when with only a few basic lessons from his roommate, he began playing electric bass.
"You know, bass always appealed to me," he says. "The drummer is working real hard, the guitar player is working hard, the singer is sweating, but then you'd see the bass player in the back and he's just playing like, 'Yeah, this is cool.' And I thought, 'That is the instrument for me!'"
Bigelow's first group was a four piece jam and cover band named Mayor Pressley after the local barber and self-proclaimed mayor of Cullowhee. The band lasted long enough for two gigs, both at a fraternity house in Cullowhee. "We were really bad," Bigelow laughs.
But sometime around August 2001 (the actual founding date is apparently a matter of debate), Bigelow was approached by his friend Greg Walker about joining a new project.
"That second band was Cooking with Quanta," Bigelow says. "I have been in that band ever since and I will be in that band for the rest of my life."
Bigelow describes Quanta as an "unpretentious, unapologetically not breaking new ground, rock and roll band." Consisting of Bigelow, guitar player Scott Burns, guitar player Neil Lippard, and Walker, who plays drums, Cooking with Quanta became a landmark of Sylva music, consistently packing out gigs at local venues. Stickers reading "We Still Quanta" or simply "Q" can be frequently spotted on car bumpers, lampposts and newspaper bins throughout Sylva and Cullowhee.
After four years of playing electric bass, Bigelow, through Burns, was introduced to what would become his trademark instrument, the acoustic upright bass.
"The first time I ever held one of those things, I knew that was my instrument," Bigelow says. "I play electric bass and I love it. I love playing rock and roll. But the music I hear in my head is that upright. When I grow up I want to be a jazz bassist. Smoky, bee-bop jazz."
With the upright bass, Bigelow started attending the Old Timey Music Jams, then hosted at Spring Street Café, where he began playing with fiddler Ian Moore and guitarist Hal Herzog. However, the immediate results were not entirely encouraging.
"I played that first night and I didn't know any of the songs," Bigelow recalls. "Hal denies this but I remember. At one point, he looked over at me and said, 'Boy, when you don't know a song you sure do play it loud.'"


"I left and I didn't come back to the jam for six months," Bigelow laughs. "I went home and practiced. But I came back."
Bigelow has been playing with Moore and Herzog for three years now. The weekly jam sessions, or for Bigelow "weekly therapy sessions," made Bigelow a bluegrass musician and led to his recruitment into the Dan River Drifters, a group of younger "pickers," with whom Bigelow has been playing for over a year.
Bigelow's most recent project is The Imperative, the brainchild of Sylva musician Luke Webb. Bigelow's involvement in The Imperative stems from a long standing friendship with Webb. The pair first met at former Sylva night-spot Crossroads where Bigelow was the bartender and Webb was "a geeky kid whose parents would bring him to all the cool shows." Despite some discussion of creating an acoustic Clash cover band, The Imperative is the first musical collaboration for Bigelow and Webb. The four-piece band plays an extremely unusual brand of alternative folk, which will add a distinct style to the already eclectic lineup planned for "Bigaroo."
"I don't like listening to only one type of music," Bigelow says. "I don't even like playing only one type of music. You know, four hours of bluegrass will drive you insane. Four hours of any one type of music will. These bands jump around into all different types of styles. It will be interesting to see how many different genres and styles are going to be represented in one night."
Though "Bigaroo" is Adam Bigelow's graduation party, it is also an open event. This is, in part, why the show is being hosted at Guadalupe Café—in order to make the music available to the public and to foster a sense of community.
"I think a local music scene has a big contribution to the community," Bigelow says. "It used to be back in the day that everybody entertained each other. But then entertainment became this thing that only a privileged few could do—a talented elite, who could get on the radio or television. And suddenly entertainment became a thing that was provided for us and we were passive."
"Unlike other places, more populated areas, and I put this in air quotes, 'there's not much to do around here.' There's not much entertainment being provided for us, so we entertain ourselves and we entertain each other. And that's really what a music scene gets down to—making your friends dance. In other cultures, dancing is a part of every celebration and every lamentation. I boogie. And that's one of the reasons I started playing music in the first place."
"Boogieing" isn't the only thing Bigelow feels musicians can contribute to a community.
"Yes, [music has] this base level of art and performance and giving people something to do, enjoy and get excited about. But more than that, artists are bell-ringers of our culture and our time."
This mentality can be observed in many of the songs Bigelow performs or has helped write, including many of Cooking with Quanta's tunes, which Bigelow describes as "60's-esque protest songs." Even between songs, Bigelow has been known to deliver impassioned speeches on environmental issues such as mountain-top coal mining or topsoil erosion.
"Right now our culture needs some bells rung! And [music] is a way to do that without just being preachy."
—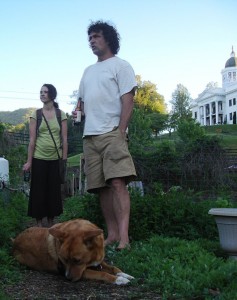 Following a Tuesday night Old Timey Music Jam, Bigelow discusses the logistics of "Bigaroo" over a round of whiskey and cheap beers—including design ideas for flyers to promote the event.
"I want one of me being carried up the courthouse steps by a crowd of people. And I'm holding a goblet with like mead or something. Because that's how this is going to end. At least, that's how I'd like it to."
A second possible idea? "You could just draw me as a homeless person, living on the street and busking with my bass. Because that might happen too."
Like most recent and soon-to-be college graduates, Bigelow seems nervous about his future. He admits his post-college plans are undefined, and the task of paying back student loans is daunting. He jokes about entering into "an experiment in poverty," and adds that at this point graduate school is not a favored option.
"I'd like to enjoy some life out of school," he says, adding that his hope is to work in garden-based environmental education "teaching people how to create a sustainable future."
Trepidatious though he may be about the long-term, Bigelow's excitement for his upcoming event is apparent. For one, this is the culmination of his "20 year college plan," a day he gets to celebrate with his family who will be visiting from Washington and Virginia. This includes his mother, who he is sure will love the Old Timey music, and his sister (or as Bigelow says, his "oldest friend"), who has never seen him play. Also, the event serves as an early birthday party, as six days later Bigelow will be turning forty.
"I planned 'Bigaroo' so I wouldn't have to think about turning forty," he says. "I'm turning forty on Friday the 13th. You couldn't have planned that."
But perhaps most importantly, "Bigaroo" will be an opportunity for Bigelow to simply spend an evening playing music with his friends. "I was thinking, 'What do I want to do for my graduation?' and I couldn't think of anything I wanted to do more than play music. I feel like a hack, like there's no way I should be playing music in all these bands. But I love the fact that I'm a musician. I'm so lucky."
"Bigaroo," or the Adam Bigelow Gratuitous Graduation Celebration, will be held Saturday, May 7th at Guadalupe Café, starting at 6:30 pm.